TRUST SALE  –  LONG BEACH
7 BEDROOM, 4 BATHROOM HOME (POSSIBLE ADU OPPORTUNITY)
BROCHURE #322
NO COURT CONFIRMATION
LOCATION:   2535 MAINE AVENUE, LONG BEACH, CA 90806  APN 7202-014-023
DIRECTIONS:   SOUTH OF W. WILLOW.  EAST OF 710 FREEWAY.  SHOW ME A MAP
DESCRIPTION:   RARE OPPORTUNITY TO BUY A 7 BEDROOM, 4 BATHROOM, TRADITIONAL FIXER HOME IN THE HIGHLY SOUGHT AFTER WRIGLEY AREA OF LONG BEACH. THE FRONT 3 BEDROOM, 1¾ BATH MAIN HOUSE FEATURES A LIVING ROOM WITH FIREPLACE, DINING ROOM AND KITCHEN. 2 STORY, ATTACHED, UNFINISHED ADDITION (POSSIBLE ADU OPPORTUNITY) INCLUDES 4 BEDROOMS, 2 BATHROOMS, LIVING ROOM, LAUNDRY HOOKUP AND 2 CAR DETACHED GARAGE. REAR ALLEY ACCESS. OLD PERMITS AVAILABLE UPON REQUEST. BALCONY DAMAGE. BUYERS TO CHECK WITH THE CITY FOR CURRENT BUILDING PERMITS, REQUIREMENTS AND RESTRICTIONS, OWNER PASSED AWAY IN THE PROPERTY. NO COURT CONFIRMATION.
LOT SIZE:   6,628± SQ. FT.
TAXES:   PROPOSITION 13
WATSON TRUST
TERMS:   CASH. BUYER TO OBTAIN OWN FINANCING. FINANCING IS NOT A CONTINGENCY TO THIS SALE. PROPERTY SOLD IN "AS IS" CONDITION WITH NO CONTINGENCIES WHATSOEVER. PROPERTY SOLD SUBJECT TO ACCEPTANCE OR REJECTION BY THE TRUSTEE/SELLERS.
ESCROW PERIOD:   45 DAYS OR SOONER
DEPOSIT:   $25,000 CASHIER'S CHECK REQUIRED TO BID. BALANCE OF 10% DEPOSIT BY PERSONAL CHECK. CASHIER'S CHECK SHOULD BE MADE PAYABLE TO FLANS & WEINER, INC.. IN THE EVENT YOUR BID IS REJECTED, DEPOSIT WILL BE REFUNDED WITHOUT INTEREST.
TITLE:   SELLER TO PROVIDE STANDARD TITLE POLICY.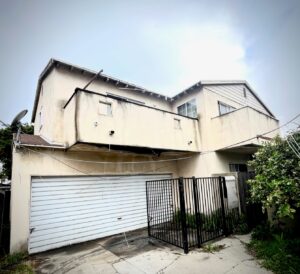 PLEASE CALL FLANS & WEINER, INC. IF YOU HAVE ANY QUESTIONS
REGARDING THIS PROPERTY OR THE AUCTION PROCESS (818) 501-4888.