TRUST SALE  –  NORTH HOLLYWOOD
COMMERCIAL BUILDING
SUNDAY, JUNE 11 @ 10:00 A.M.
BROCHURE #325
NO COURT CONFIRMATION
SALE TO BE CONDUCTED AT THE OFFICES OF FLANS & WEINER, INC.
16200 VENTURA BLVD., SUITE #417, ENCINO, CA 91436
LOCATION:   5634 VINELAND AVENUE, NORTH HOLLYWOOD, CA. 91601  APN 2415-005-009
DIRECTIONS:   THOMAS GUIDE (L.A. COUNTY) P. 563, A-1. NORTH OF BURBANK BLVD, EAST OF LANKERSHIM BLVD.  SHOW ME A MAP
DESCRIPTION:   COMMERCIAL BUILDING (APPROXIMATELY 2,250 SQ. FT.) ON HIGH VISIBILITY VINELAND AVENUE IN THE VERY POPULAR AREA OF NORTH HOLLYWOOD, CALIFORNIA.THE BUILDING IS LEASED TO THE NORTH HOLLYWOOD SPA THAT ALSO LEASES AN ADJACENT BUILDING. REAR ALLEY ENTRY. 2 PARKING SPACES AT REAR OF BUILDING. ROLLUP DOOR. PERSONAL PROPERTY NOT INCLUDED IN SALE. DO NOT DISTURB THE TENANT. CLOSE TO SHOPPING & FREEWAYS. NO COURT CONFIRMATION.
INCOME:   $2,600 PER MONTH STARTING MAY 1, 2023. COPY OF LEASE AND ADDENDUM DATED 6-1-1991 AND AMENDMENT TO LEASE BEGINNING 5-1-2014 AVAILABLE UPON REQUEST. LEASE EXPIRES 4-30-2029. TENANT HAS 10 DAY FIRST RIGHT OF REFUSAL TO PURCHASE THE PROPERTY. 
LOT SIZE:   2,754± SQ. FT.
ZONED:   LA C4                   SUBJECT TO GENERAL PLAN CONFIRMATION
TAXES:   PROPOSITION 13
MALIN TRUST
TERMS:   CASH. BUYER TO OBTAIN OWN FINANCING. FINANCING IS NOT A CONTINGENCY TO THIS SALE. PROPERTY SOLD IN "AS IS" CONDITION WITH NO CONTINGENCIES WHATSOEVER. PROPERTY SOLD SUBJECT TO ACCEPTANCE OR REJECTION BY THE TRUSTEE.
ESCROW PERIOD:   45 DAYS OR SOONER
DEPOSIT:   $10,000 CASHIER'S CHECK REQUIRED TO BID. BALANCE OF 10% DEPOSIT BY PERSONAL CHECK. CASHIER'S CHECK SHOULD BE MADE PAYABLE TO FLANS & WEINER, INC.. IN THE EVENT YOUR BID IS REJECTED, DEPOSIT WILL BE REFUNDED WITHOUT INTEREST.
INSPECTIONS:   TUESDAY, MAY 30 & JUNE 6 (11:00 A.M.-1:00 P.M.).
TITLE:   SELLER TO PROVIDE STANDARD TITLE POLICY.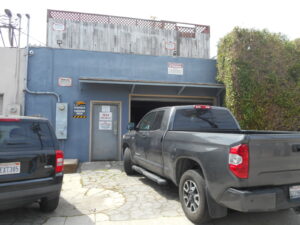 PLEASE CALL FLANS & WEINER, INC. IF YOU HAVE ANY QUESTIONS
REGARDING THIS PROPERTY OR THE AUCTION PROCESS (818) 501-4888.